Home > Trending > Washing Machine Cleaner
These Tablets Instantly Deep Clean Your Washing Machine Killing 99.9% Of Germs, Mold, And Bacteria
SCARY FACT: If you notice a stale musty smell on your clothes or washing machine, it's a sign that mold and mildew are growing in your machine.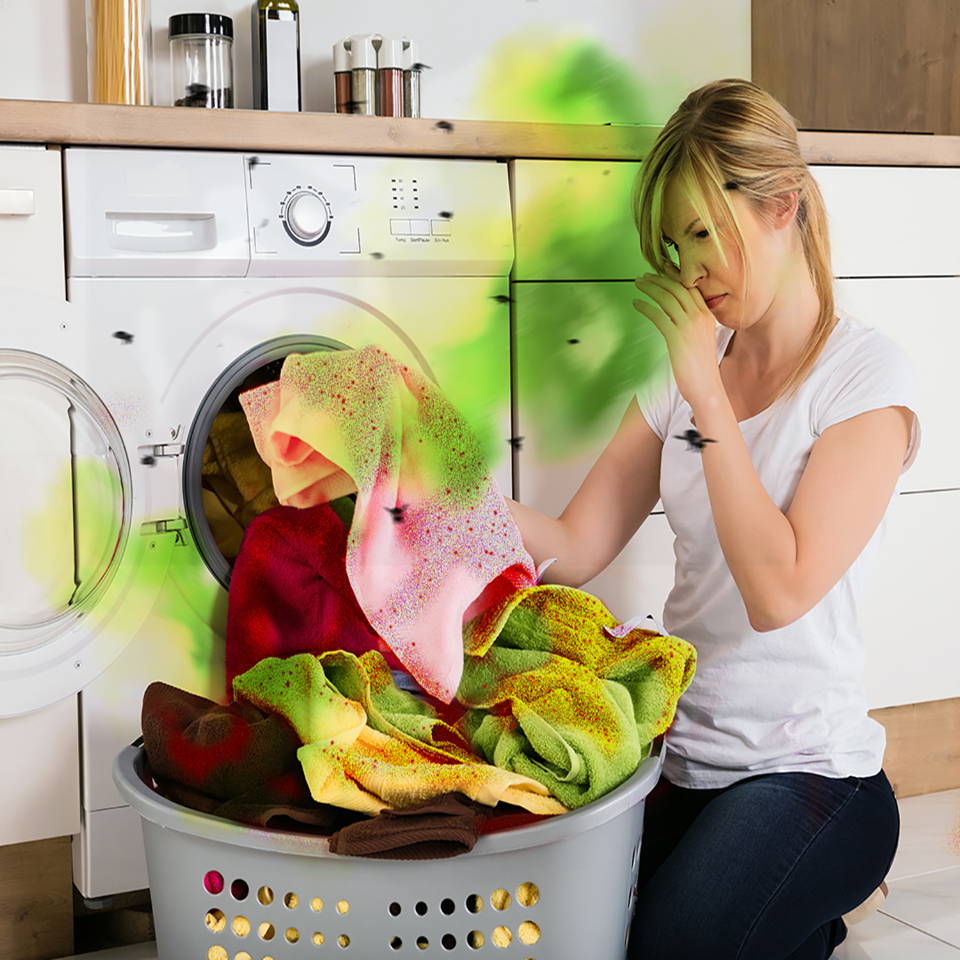 These genius tablets are a game changer! Keep reading to find out why thousands of people are using this...
1. Your Washing Machine Is The Perfect Environment For Repulsive Bacteria Buildups

If you've ever caught a whiff of a stale, musty smell on your clothes or in your machine, a dirty washer is likely the case.

If your like me you probably had no idea that cleaning your washing machine was a thing.
I mean, it should clean itself every time you wash your clothes, shouldn't it?
The average American family does 40 to 45 loads of laundry per month. Yet millions of people don't even realize they need to clean their machines.
Studies show that washing machines are the perfect BREEDING ground for disgusting bacteria to flourish due to the wet, warm environment.
Several studies have found that washing just one load of underwear can produce as many as 100 million units of E.coli that can even transfer to the next load!
Children's clothes and clothes worn out in public carry much more on them that then enters into your washing machine.
These bacteria continue to build inside your washer turning into potentially harmful and sickening build ups.
These build ups can even infect yours and your families clothes and skin.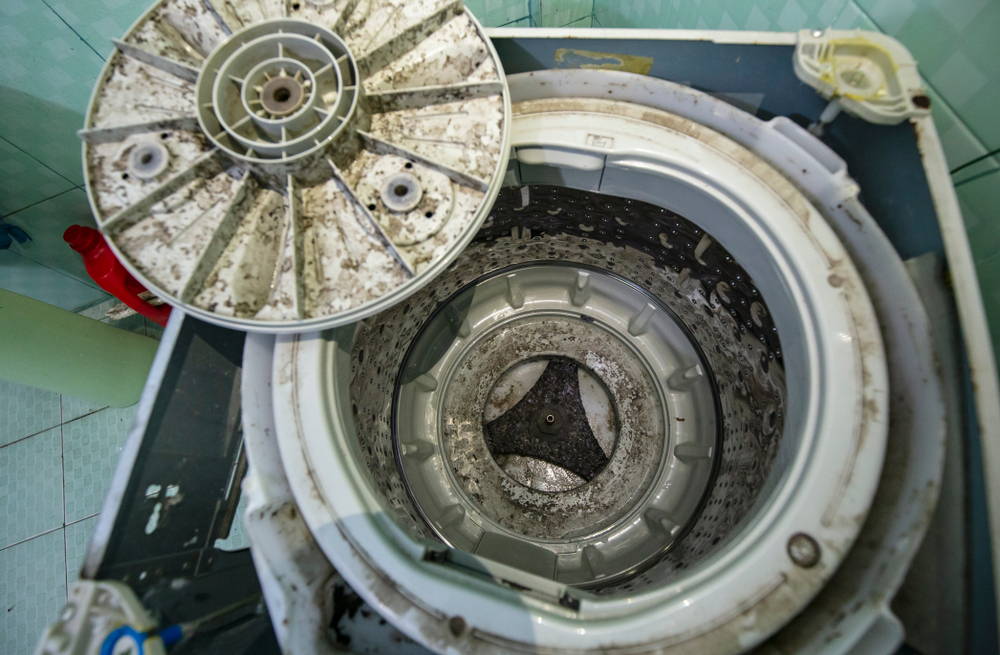 2. At Home DIY Cleaning Solutions Don't Actually Work
Many of us have probably tried DIY remedies like bleach, vinegar or baking soda.
I have too and I thought that was enough...
Turns out that these don't actually get to the ROOT of the problem, which is the nasty build ups that grow over time.
These DIY remedies are great for getting rid of surface bacteria on the inside of the machine and the drum.
But they fail to actually break up those thick build ups that are the main source of bacteria spreading throughout your machine.
3. Laundry Detergent Cleans Your Clothes But It Doesn't CLEAN Your Washing Machine
Most people also think that washing with detergents keeps your machine clean on the inside…
It's natural to think that, unfortunately, laundry detergents alone aren't enough...
Most people also try to save energy by washing at lower temperatures, relying on their detergents to kill off the dirt and germs.
But without something specifically designed to target and kill bacteria or very hot water, not all bacteria die.
Germs can then multiply, spread between the different items, and create a germ like soup in your washing machine infecting your clothes.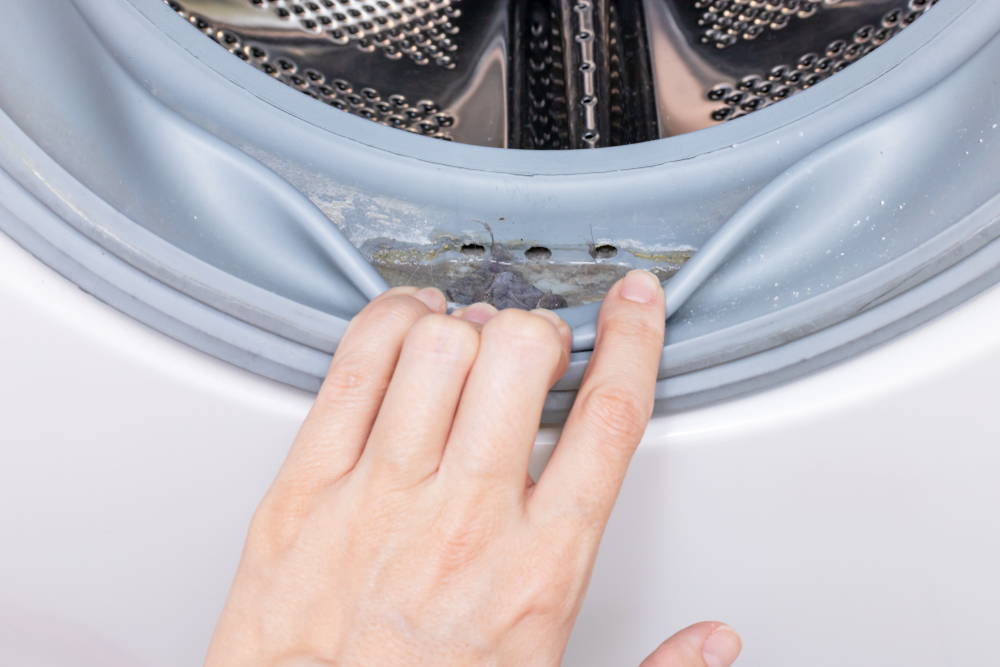 4. There Is A Simple Solution To Fix All Of This, And It's Beyond Easy To Use!
If you are one of the millions who have never cleaned their washing machine, or didn't even realize you were supposed to...
there is a solution to all the problems above!
What if I told you, that there's an easy way to instantly deep clean your washer?
What if I told you that it works on all washing machine and kills 99.9% of germs and build ups...
...and is even safe for your septic tank?
Luckily I have just the thing. A simple and easy way to improve the cleanliness and effectiveness of your washing machine and get cleaner clothes and a cleaner machine.
The Answer Your Searching For Is Rinse Wizard™ Washing Machine Deep Cleaning Tablets!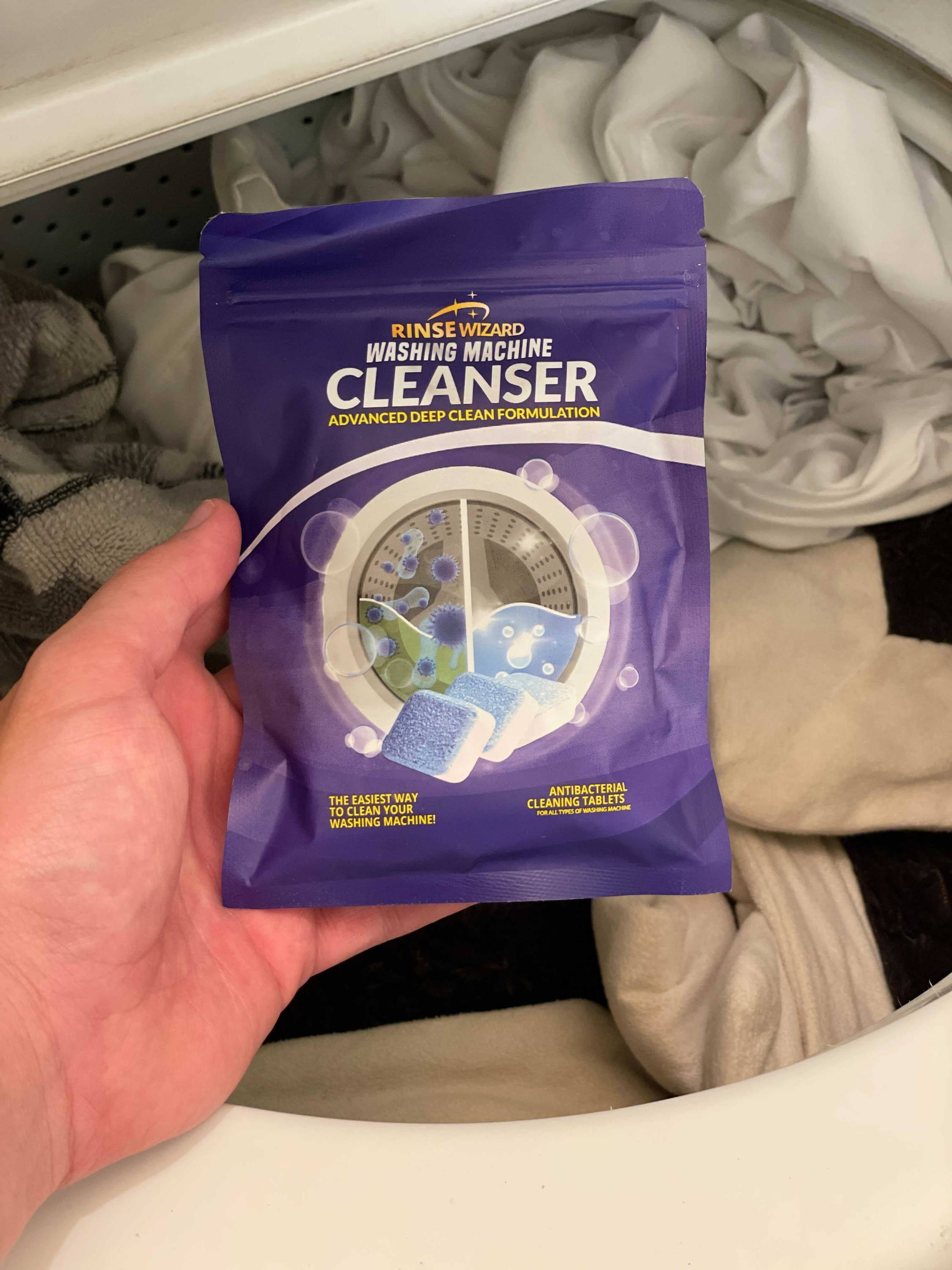 Rinse Wizard™ tablets are designed to deep clean your washer in the most effective and easy way possible.
They are antibacterial, and 10x stronger than leading alternatives. They work on all washers top and front load including (HE). They are also 100% septic tank safe!
You simply drop them into your washer and run a cycle! Just 1-2 tablets will instantly destroy bacteria and those gunky build-ups that cause odor's.
Resulting in a cleaner machine and cleaner clothes!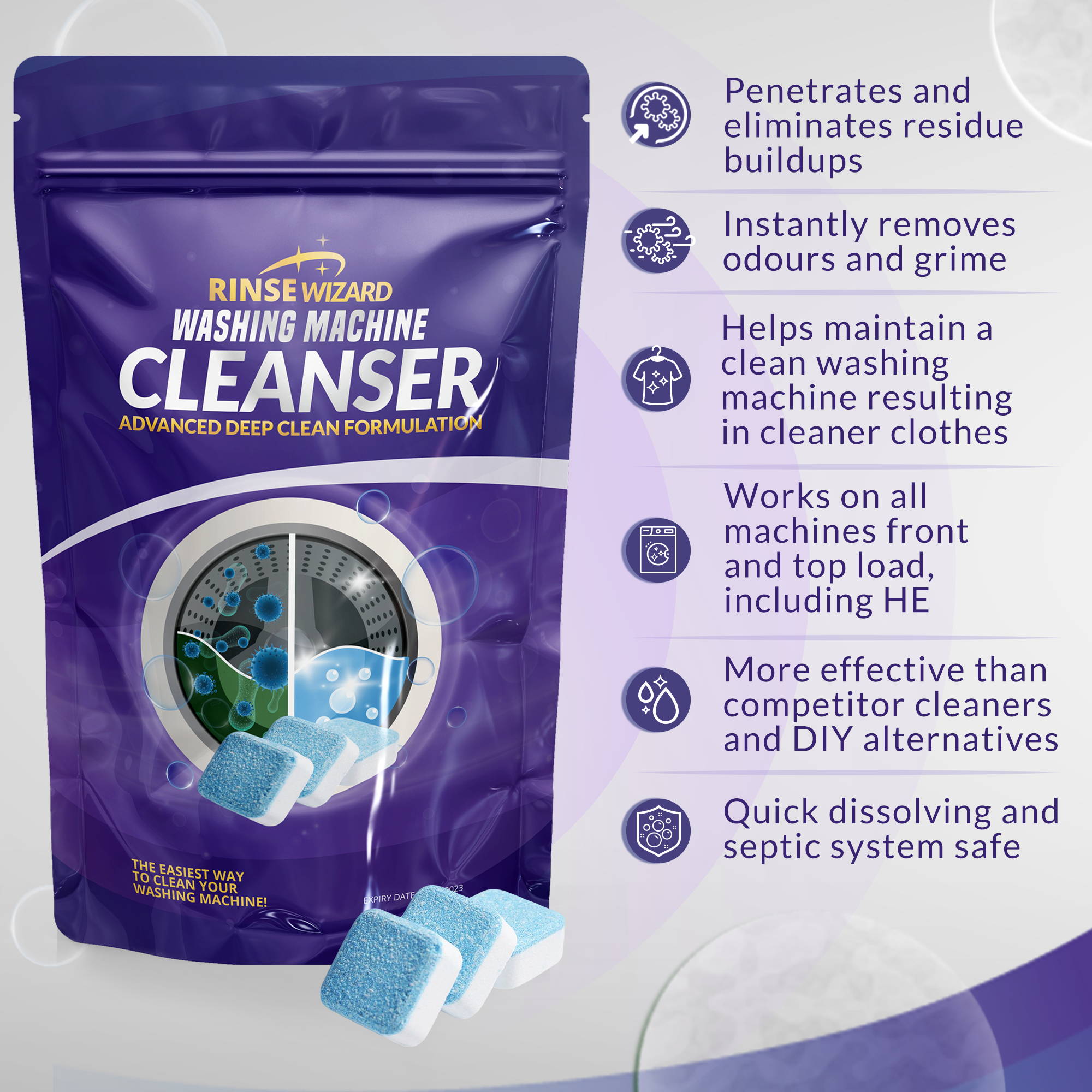 Powerful Deep Clean Formulation!
Thanks to its exclusive deep clean formulation, Rinse Wizard™ instantly disintegrates deep dirt and grime while simultaneously eliminating 99.9% of bacteria in your washing machine.
Instead of just killing surface bacteria they are designed to seek out and destroy those gunky build ups deep inside your washer.
These are the root cause of bacteria and odor in your washer.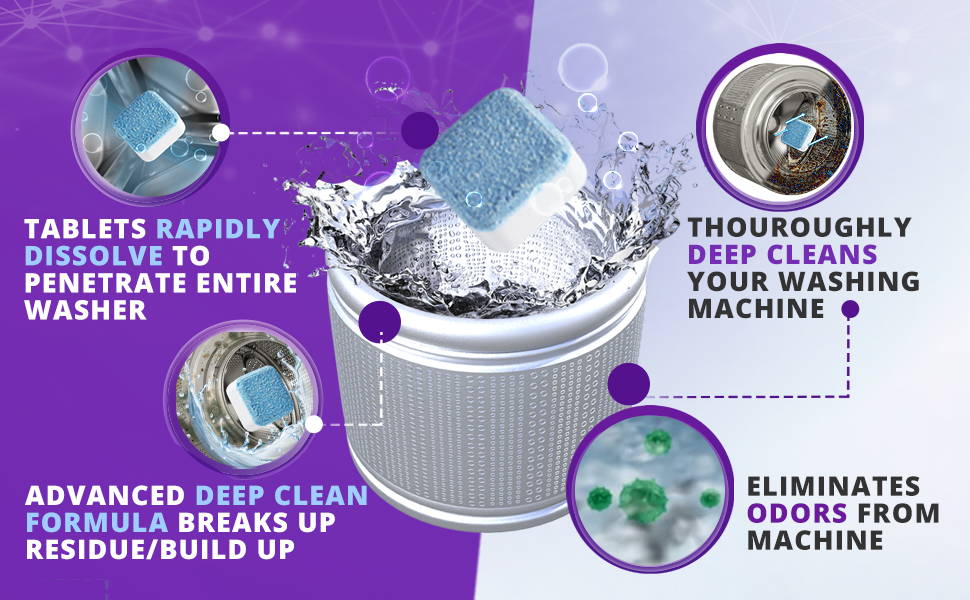 These sheets dissolve easily in hot or cold water.
And they work in all machines, HE included!
The Packaging is 100% Biodegradable.
Earth Breeze packages with 100% biodegradable cardboard and ink. This means our packaging will biodegrade in about 3 months depending on the environment.
You Can Save SO Much Space!
Earth Breeze packaging is very lightweight and compact. You can free up a ton of space in your laundry room. What will you do with all that extra room?
Removes The Toughest Stains
It may be shocking to know Eco Sheets deliver such a powerful clean. Why? Because it's super concentrated and will remove the toughest stains.
Where Does Rinse Wizard Ship From?
These tablets come from their warehouse in Oregon warehouse in USA. Shipping times are generally 3-5 business days.
What If These Tablets Don't Work?
Rinse Wizard offers a 100% satisfaction guarantee because of the conviction in their product. Basically if you don't think they worked or are unhappy for whatever reason they will refund you 100% no questions asked
Where Can I Get Rinse Wizard Tablets?
Rinse Wizard is currently only selling online! You can check the availability at the link below.
Try Rinse Wizard RISK FREE Today With Our 100% Satisfaction Guarantee!
This limited time deal is in high demand and stock keeps selling out.
What are customers saying about Rinse Wizard™?
My washing machine literally smelled like death lol! I tried these tablets and literally after one use my machine smelled fresh and my clothes came out smelling amazing!
The washing machine looks brand new after these. Love them. Very easy to use and don't have to take my machine apart to clean.
Honestly, I have never cleaned my washer before. My washer is 8 years old and after using these it looks 100% brand new
Blown away at how gross my machine was. These tablets took all the hidden debris, hairs, and gunk out!
These tablets truly did the trick with my front load washer. Everything is totally spotless and fresh smelling. The rubber gasket which is often full of mold and crud is clean. Great Product.
Thousands of people are LOVING their Rinse Wizard tablets.

PLEASE NOTE:
As an online special exclusive sale, Rinse Wizard is now offering up to 55% OFF to all new customers.
This is a limited time offer and won't last long, so act now to take advantage before it's gone forever.
Plus, if you aren't totally satisfied with your purchase they will provide you with a full refund. No questions asked!
Please check their site to see if stock is currently available..
Click the link above to see if THEIR 55% discount IS STILL AVAILABLE
Instantly Solve The Problem Of Stale, Musty Smelling Clothes And Washing Machines.
THIS IS AN ADVERTISEMENT AND NOT AN ACTUAL NEWS ARTICLE, BLOG, OR CONSUMER PROTECTION UPDATE

THE STORY DEPICTED ON THIS SITE AND THE PERSON DEPICTED IN THE STORY ARE NOT ACTUAL NEWS. RATHER, THIS STORY IS BASED ON THE RESULTS THAT SOME PEOPLE WHO HAVE USED THESE PRODUCTS HAVE ACHIEVED. THE RESULTS PORTRAYED IN THE STORY AND IN THE COMMENTS ARE ILLUSTRATIVE, AND MAY NOT BE THE RESULTS THAT YOU ACHIEVE WITH THESE PRODUCTS. THIS PAGE COULD RECEIVE COMPENSATION FOR CLICKS ON OR PURCHASE OF PRODUCTS FEATURED ON THIS SITE.


MARKETING DISCLOSURE: This website is a market place. As such you should know that the owner has a monetary connection to the product and services advertised on the site. The owner receives payment whenever a qualified lead is referred but that is the extent of it.


ADVERTISING DISCLOSURE: This website and the products & services referred to on the site are advertising marketplaces. This website is an advertisement and not a news publication. Any photographs of persons used on this site are models. The owner of this site and of the products and services referred to on this site only provides a service where consumers can obtain and compare.